So, I decided to celebrate today with a little homemade pizza! I <3 bbq chicken pizza soooo much. So, I made some!
I took out my trusty bread maker to make the dough because lets face it. I hate making bread dough. It is a pain and they made bread makers for a reason. I have never used this recipe before and man oh man, I will never use another. I got it off allrecipes.com and the only thing I changed was using half whole wheat flour and half regular flour.
http://allrecipes.com/recipe/bread-machine-pizza-dough/detail.aspx
Now, I let the all mighty and powerful bread maker do its bit and then I got my toppings together. I baked some bacon, I shredded some mozzarella cheese, chopped up some onion and chicken lunch meat and when it was time to get out the bbq sauce I realized....I had none. :( So, I made some :)
Again, went to trusty allrecipes.com and found this wonderful, I will never ever buy bbq sauce again, bbq sauce recipe.
http://allrecipes.com/recipe/nanas-barbeque-sauce/detail.aspx
When my dough was done, ummm, dough-ing, I rolled it out onto my pan and slathered it with olive oil, baked on 400 for about 8 minutes.
Now, I just topped it with tons of cheese and then everything else.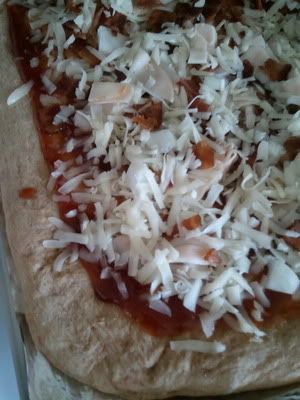 And, baked for another 15 minutes or so until it was all tasty looking.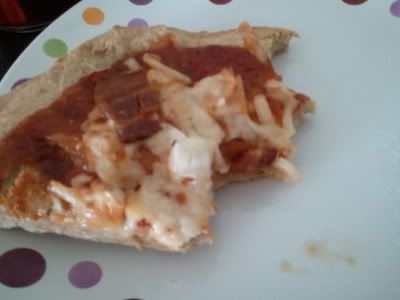 O.my.goodness! It was wonderful. Enjoy, I sure did!